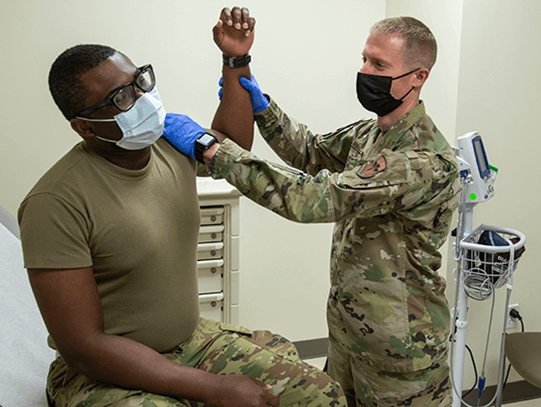 DMS, a BRMi company, is pleased to announce its joint venture with PGT Solutions, pgdms, is an awardee on the Defense Health Agency (DHA) OMNIBUS IV indefinite delivery, indefinite quantity (IDIQ) contract vehicle, which has a $10 billion ceiling, for military medical research and development. The DHA enables the U.S. Army, U.S. Navy, U.S. Air Force, and U.S. Space Force medical services to provide both a medically ready force and a ready medical force to Combatant Commands in both peacetime and wartime. The pgdms contract award is in the fourth market segment of the vehicle, Translational Science Support and Services.
"I'm thrilled to bring the tremendous capability set of the BRMi family forward to new biomedical clients in this market segment," said BRMi President Mike Battle. "Our public-health-research technology depth and process introspection and optimization competencies will, without question, help DHA reach its mission objectives: improving management, execution, and delivery of high-quality health care; medical education and training; military medical research and development; and public health support." He added, "We have a first-rate team of professionals—from strategic analysts to project managers to technical specialists and scientists—that are ready and able to execute and apply the power of their experience. This is what we do."
Jena Jones, CEO of PGT Solutions, also expresses full confidence in the carefully selected team: "I am not only honored to continue providing support to the warfighter but to also bring the wealth of experience of our health-focused professionals and the lessons learned driving critical medical and technical initiatives at other agencies such as the VA. Pgdms is further strengthened by team members brought on for their expertise in emerging needs we believe to be crucial to the success of this market segment."
Pgdms will have the opportunity, through competitive task orders issued on the OMNIBUS IV vehicle, to support translational science-related requirements, needs assessments, analyses of alternatives, transitions, evidence-based solution development, health communication, and many other areas of proficiency. Pgdms team members leverage decades of experience delivering similar services successfully at the National Institutes of Health and the United States Department of Veterans Affairs.
Jim Racheff, President of DMS, sees the win as a natural match and enthusiastically stated, "This opens up new opportunities to support health efforts of the U.S. military. As a scientist, I hear translational science and get excited, to be honest. I'm proud that the collaborative strength that this partnership offered has been recognized." He explained, "for DMS's part, we've been enabling and enhancing biomedical development and public-health research through systems management, new technologies, experimental design, data, statistics, modeling, publication, and a whole lot more for over 40 years. OMNIBUS IV really gives us an opportunity to expand and share our laboratory and clinical experience and our technical expertise for the benefit of the nation's military healthcare system and DoD medical researchers."
Congratulations to key contributors and the pursuit team on this great strategic win!